CAN YOU TELL I HAVE KIDS?
THIS PACKAGE CONTAINS:
VARIOUS KID'S MARBLE GAMES
1. MARBLE TARGET ARCADE
2. MARBLE TARGET WAR (2 PLAYERS AGAINST EACH OTHER)
3. MARBLE BOWLING DESIGN 1 (NO GUTTERS) (WITH PINS CONNECTED TO A RAISABLE PIN "SETTER-UPPER" THAT IS SET IN AN ABOVE-ALLEY ROOF)
4. MARBLE BOWLING DESIGN 2 (WITH GUTTERS) (WITH PINS "SETTER-UPPER" AS ABOVE)
5. MARBLE CURLING (LIKE THE ICE CURLING IN THE OLYMPICS)
6. MARBLE REBOUND (SIMILAR TO CURLING ABOVE BUT MARBLES MUST REBOUND TWICE AND COME BACK ONTO THE "CURLING" TARGET)
KID'S MARBLE ARCADE: For younger children; player aims marbles up ramp into circle, square, triangle shaped targets. Those exit another ramp back to player
KID'S MARBLE BOWLING: For younger children; small bowling alley with return gutters and a plexi glass top. Pins are wooden and are connected to strings thru the plexi glass to a plate that simply lifts pins into hole template and lowers them to line up pins again (just like a real bowling alley)
KID'S MARBLE REBOUND: Much like that old 70s "Rebound" game with rubber bands as the rebounders and a "curling target" to aim for on the rebound side.
KID'S MARBLE TARGET WAR: Plans specify 2 options for large and small size marbles, 1 player sits on either side. They aim marbles up ramp into circle, square, triangle shaped targets. Those marbles exit another ramp on opponent's side so the more marbles you get thru your targets, the more marbles come out toward your opponent and the more marbles he has to get rid of. 1st player to get rid of all marbles wins. 2 ramps on either side- target and exit (something I'll play with my little guy when he gets a bit older).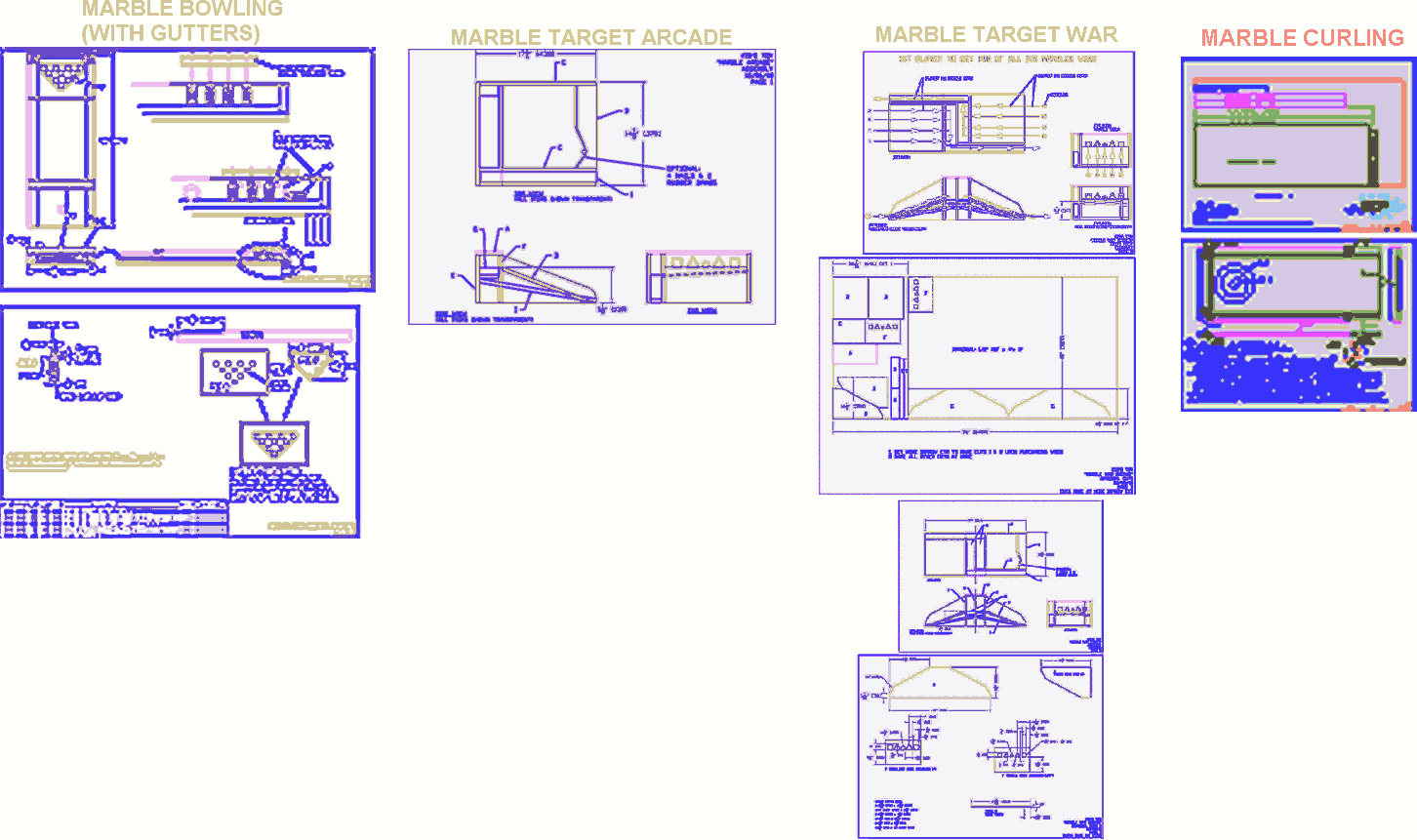 ORDER THE ABOVE CD BY SNAIL MAIL OR GO TO DOWNLOAD PAGE
---
CLICK HERE IF YOU DON'T SEE A MENU ON THE LEFT